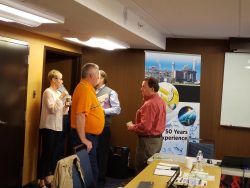 M.L. Ball Company, Inc. was established in 1967 as a manufacturer's representative organization. In 1972, the company added warehouse space in order to become a master distributor for pump parts, Rohm and Haas ion exchange resins and other items being marketed to the pulp and paper industry, as well as for electric utilities.
Our product representation has expanded rapidly since 1967 and today includes ion exchange resins, our proprietary MasterCarb product and other activated carbon products, filter media, reverse osmosis products and more, marketed for power and steam, pulp and paper, and electric utilities.
Our sales force consists of sales engineers, inside sales specialists and office administration professionals. We proudly provide our customers with a wealth of experience in handling our products and associated services. In the 50+ years of the company's operation, the average tenure of employment is 14 years or more.
The Management
Myron Ball founded the company in 1967 and remained active well into his 90s. Today the company is two generations strong with Marc Ball as its current President, providing day-to-day management, and David Ball leading sales. As a family-owned and -operated company, we take immense pride in the legacy of excellence we've built and continue to add to with each passing year.
The Team
No business can succeed without a standout team. M.L. Ball Company, Inc. is no exception. Our talented engineers, administrative team, regional representatives and many others work together to provide our clients with the best products and finest services available in the industry today. We believe in pillars of honesty and integrity, as well as ongoing education and innovation to stay at the top of our field.
For more information about M.L. Ball Company, Inc. and the water quality solutions we provide to businesses and governments worldwide, please contact us at 770-447-5660. We look forward to meeting your needs with superior products and solutions.